As a school, we had already used many of GL Education's products when I was simply searching their website and came across Exact. The page was illuminated, and I heard a distant chorus of angels sing 'Hallelujah!' (ok, maybe not quite but the feeling was pretty close!). I can honestly say that Exact is one of my favourite assessments and has revolutionised the way that we run Access Arrangements here at Tenbury High Ormiston Academy.
At the moment (although this is very much a journey for us), all students in Year 9 are screened at the beginning of the academic year. Exact is really easy to administer to groups of students at the same time in less than 45 minutes. The results are even easier to interpret and make great visual evidence for inclusion in the Access Arrangements folder, in case the JCQ inspector makes a visit.
Step 1 – Beginning of Year 9: All students screened using Exact.
Step 2 – SENCO scrutinises results' tables for all students and an overview of student requirements is compiled.
Step 3 – Notify parents that their child MAY qualify for Access Arrangements and ask permission for referral on to external assessor.
Step 4 – Complete the Form 8 (using the most recent version from the JCQ website) and send to the external assessor.
Step 5 – External assessor completes assessments and returns Form 8s.
Step 6 – SENCO scrutinises assessment data and decides which arrangements to apply for.
Step 7 – SENCO processes applications through the Access Arrangements Online (AAO) portal for approval.
Step 8 – SENCO gathers evidence during Key Stage 4 to show 'Normal Way of Working'.
Step 9 – SENCO and Exams Officer work together to ensure that arrangements are in place during the formal GCSE assessments.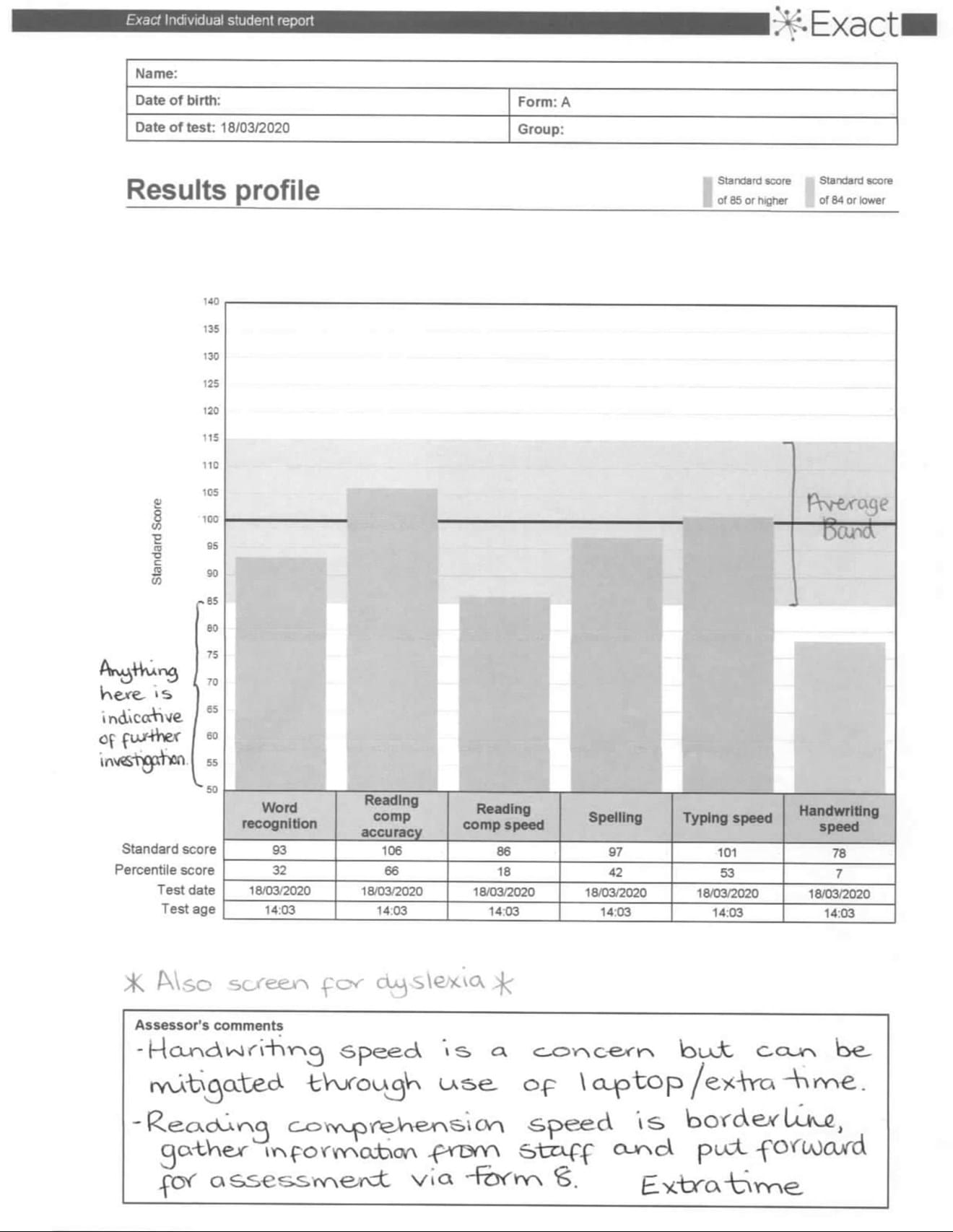 We have had some surprises following the use of Exact – mainly with the most able students, who aren't always obviously displaying their difficulties in a Key Stage 3 classroom. One student was so relieved that she would possibly qualify for formal arrangements that they said; "It's a huge relief that I might get extra time and actually be able to finish the whole exam paper."
Exact has given us the peace of mind that all children who need Access Arrangements have been identified, and we can be confident that each student can access the GCSE exams in a fair and accessible way.